December, 2021
Each month we recognize an AmeriCorps member serving in Utah for going above and beyond the pledge they took to "Get Things Done." This month we are proud to recognize Carol Cannon who is serving with the AmeriCorps Education Initiative of Utah (AEIOU).
AEIOU runs a statewide Student Success Program that helps schools provide more individual support for at-risk students so that they can be successful in school and in life. Through AEIOU, mentors and tutors work one-on-one with a specific caseload of students to help them strengthen reading skills, increase attendance, improve GPA, and progress towards high school graduation.
Carol is serving in her second year at James E. Moss Elementary School and has excelled from the start of her service. She has recruited and trained several volunteers to read with students at her school and does all that she can to help support the students. She helps the students and the volunteers have a positive and safe learning environment to learn and grow.
Last year, AEIOU program staff were able to go to James E. Moss Elementary and interview Carol's students and volunteers. Each of them spoke about how excited they are to come and read together and a large part of that is due to Carol's encouraging leadership and organization skills. Her friendly and easy going manner helps people around her to feel instantly at home. Carol identifies the strengths of those she works with and encourages growth by engaging both students and tutors in improving their learning.
Carol shared an example that illustrates this quality. One of her 5th grade students was doing well and meeting his goals but also seemed to be losing interest. So, Carol collaborated with the tutor to discuss how to best engage him and how to keep him challenged. They came up with a few ideas that would continue to help the student reach his potential. She involved the student and the tutor which increased commitment of both. She is always willing to go the extra mile to help her students achieve their goals.
---
Carol's Service Story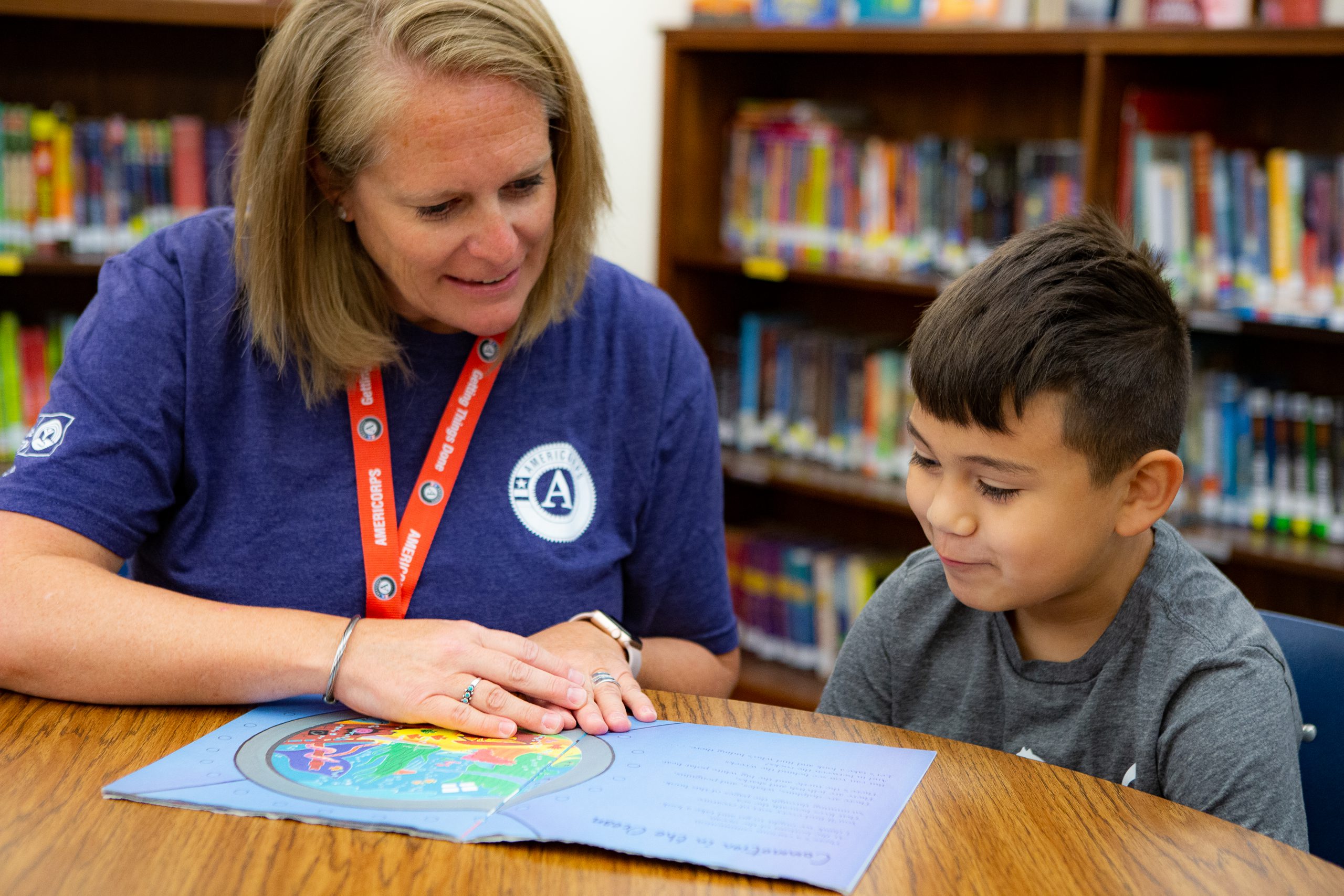 "I started tutoring with the AmeriCorps AEIOU program about three years ago. My four kids were getting older and I wanted to try to do something with my English degree and my free time that would be impactful in our community. My parents owned a bookstore all through my childhood so I have a great love for books and the way words are put together to form ideas and create stories. Tutoring was a great fit for me and I loved interacting with my students, who were from all over the world. After tutoring for a few years, I joined AmeriCorps to run the program at Moss Elementary. I am so glad I did. The most fulfilling part of my service has been watching relationships develop between a volunteer tutor and a student who needs help getting to their grade level. It can be a jr. high student connecting with a kindergartner or a retired professional connecting with a fifth grader. There is so much care and thought and hard work put into these sessions so that these students can reach their goals and feel confidence in their abilities. And they have so much fun doing it. I have seen students blossom from this focused attention and really start excelling at reading and school in general. They finally understand English concepts or words that have been confusing for them and it increases their enjoyment of reading so much. It is so rewarding to see. I have learned so much from my AmeriCorps service. I am a child of the 80's so I needed to learn more about how to use all things Google. I have increased my knowledge of Google applications to provide an online space for tutors and students to connect virtually during COVID. I have refined skills such as advertising with social media or organizing and reporting data. I also have learned so much about the network of service organizations and nonprofits that operate all over the Wasatch Front. They are inspiring. Most importantly, I feel empowered to organize my own events and participate in events that specifically address pertinent needs in the community. The most profound and lasting societal changes will happen through these kinds of programs and I want to be a part of it."
---
We extend our congratulations to Carol for being recognized as the AmeriCorps Member of the Month and thank her for her dedicated service.
What is AmeriCorps?AmeriCorps is your moment to take the path less traveled, to break the status quo, to stop talking about the problem and be the solution. Join AmeriCorps and you can mentor and tutor kids, rebuild a community after disaster, help veterans, or work with local communities to alleviate poverty. There are thousands of opportunities to choose from, find the one that fits you.