April 2021, Updated March, 2022
Ayla Pollick was recognized as the AmeriCorps Utah Member of the Year in March of 2022. Ayla was selected for this honor by the National Service Committee of the Utah Commission on Service and Volunteerism.
When asked if they had any advice for others considering an AmeriCorps term of service, Ayla responded:
"My advice for those serving is: take lots of pictures, start a journal, savor every moment. Most importantly have fun! My year with UCC is full of some of my most cherished memories- which leads to my advice for people thinking about doing a term of service. Do it! "
Ayla is currently leading trail-building in Arkansas, taking their passion for environmental stewardship across the country!
Each month we recognize an AmeriCorps member serving in Utah for going above and beyond the pledge they took to "Get Things Done." This month we are proud to recognize Ayla Pollick who is serving in Cedar City with the Utah Conservation Corps (UCC).
Ayla has demonstrated a strong commitment to service, and has the tenacity and drive required to help the environment and communities in their home state of Utah, as well as across the country. Ayla is currently a Field Crew Leader with UCC, enrolled in their second term of service. During their first term of service, Ayla served on a field crew based out of Cedar City. They completed habitat restoration and invasive plant species removal projects. After the field season, they volunteered to deploy to Florida to aid in disaster response efforts in the wake of Hurricane Sally. This year, Ayla is serving a year-long term of service as a Field Crew Leader and will be mentoring others on conservation projects.
Ayla is a vibrant person with a desire to learn, grow, and aid others in discovering their passions through service. Having past experience with UCC has allowed them to lead their fellow Crew Leader trainees this spring during training and the beginning of the field season.
On their disaster response deployment in Florida, Ayla and their fellow members removed 689 cubic yards of debris from affected homeowners properties, removed 108 hazardous trees, and tarped roofs on 6 homes.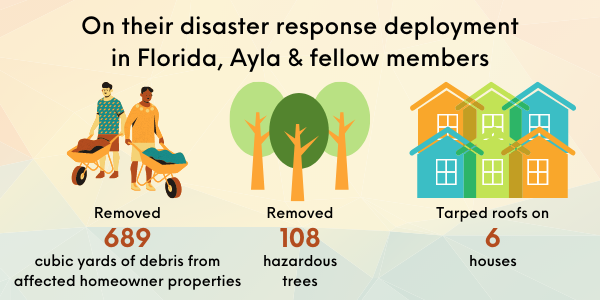 Ayla has been a mentor to their fellow members, offering valuable skills and insight that they will use throughout their service with UCC and in the years to come. Ayla's calm and compassionate demeanor creates a welcoming environment for everyone, and they are always ready and willing to go above and beyond.
Kenny Henager, Southwest Regional Coordinator with UCC, shared how Ayla's positive attitude has impacted those serving alongside them. "This is Ayla's second go around working with me down here in Cedar [City]. Ayla was a phenomenal member, worked on a very productive crew, got a lot of things done, and this year decided to take that step and become a crew leader. They have come in rocking and rolling and helping the other folks get caught, becoming a leader and helping other people become leaders. They always have a good attitude and they help keep a positive attitude in our office…Last year was hard, to put it real nicely, and Ayla was one of those that had the positive attitude that helped us all keep going."
Q&A with Ayla
Q: Why did you choose to serve as an AmeriCorps member with the Utah Conservation Corps?
A: I originally chose to serve last fall sort of on a whim because I wanted to have a secluded job outside during the pandemic. Then I decided to come back because I loved the work and the experience so much! 
Q: What is a typical day like for you in the Utah Conservation Corps?
A: A typical day for us includes waking up in various beautiful places (most recently Zion national park) and either unzipping our tents or if the weather is nice enough just uncurling from our sleeping bags that have been laid out under the stars. Whoever is up first usually starts hot water for coffee, tea, etc. Then we get to work! Well, first we do a stretch and safety circle. Then work! Our projects are varied in types of work we do. Everything from invasive species removal with chainsaws to planting native plants and everything in between (digging ditches and dragging brush). After a long day of work we go back to camp and either enjoy down time reading, journaling, or exploring the nearby area. Our crews share camp chores and take turns cooking for each other. Recently my crew got to hike Angels Landing in Zion after work and it was truly magical! 
Q: What have you liked most about serving with the Utah Conservation Corps?
A: The thing I have enjoyed most during this time has been all of the amazing people I've met along the way. This job and experience is very unique and creates a community that encourages people to be completely themselves and I'm so grateful for all the friends I've met on this journey so far.
---
We extend our congratulations to Ayla for being recognized as the UServeUtah AmeriCorps Member of the Month and thank them for their dedicated service to Utah's lands, environment, and communities.
What is AmeriCorps?
AmeriCorps is your moment to take the path less traveled, to break the status quo, to stop talking about the problem and be the solution. Join AmeriCorps and you can mentor and tutor kids, rebuild a community after disaster, help veterans, or work with local communities to alleviate poverty. There are thousands of opportunities to choose from, find the one that fits you.