UServeUtah, the Utah Commission on Service and Volunteerism, will be accepting applications for the operation of Utah State AmeriCorps programs. AmeriCorps provides support to nonprofits, community organizations, and public agencies committed to addressing critical issues in areas such as education, public safety, health, economic opportunity, the environment, and other human needs. Grantees and sponsoring organizations are responsible for recruiting, selecting, and managing members. New programs selected through this process will begin operation in the fall of 2019.
January 25, 2019: RFP notification info to stakeholders
February 26-March 1, 2019: RFP outreach workshops - statewide
March 20, 2019: Submit notice of intent to apply by email to Scott Keyes at scottkeyes@utah.gov
April 26, 2019 by 5:00 p.m. (MST): Submit formula concept paper by email to Scott Keyes at scottkeyes@utah.gov
April 27, 2019 - June 6, 2019: Formula review for submitted applications
June 7, 2019: Final decision letters to applicants
June 14, 2019: Successful applicants complete full online application
Late Summer/Early Fall 2019: Selected programs begin operations
Instructions for submitting the General Assessment Questionnaire
Organizations and agencies that have not previously received AmeriCorps grant funding from UServeUtah must complete the General Assessment Questionnaire. This certification is to assure UServeUtah that the contracted agency has adequate administrative procedures in place to ensure that funds disbursed by UServeUtah will be safeguarded as required by federal regulations. UServeUtah reserves the right to conduct on-site monitoring of contracted service providers as it deems necessary.
Please complete all questions on the form.
The General Assessment Questionnaire must be submitted in electronic format by e-mail to Scott Keyes at scottkeyes@utah.gov by April 26, 2019, at 5:00 p.m. (MST).
Include copies of the following documents:

Organizational Chart
Resumes and position descriptions for all grant and fiscal management staff to contribute to the AmeriCorps program
Financial policies and procedures
Confirmation of insurance coverage
Most recent audited financial statements
AmeriCorps Grant Competition Budget Development Training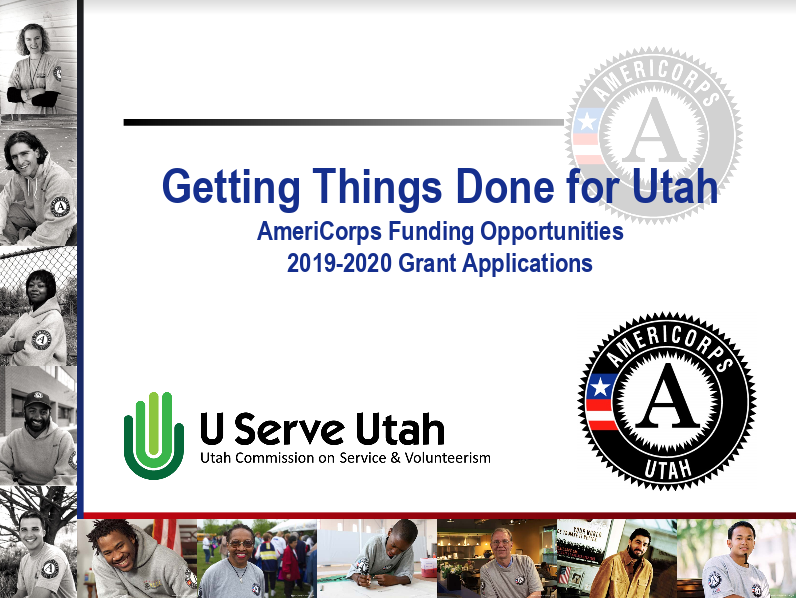 Please click here to review the training presented during the mandatory AmeriCorps funding technical assistance meetings.