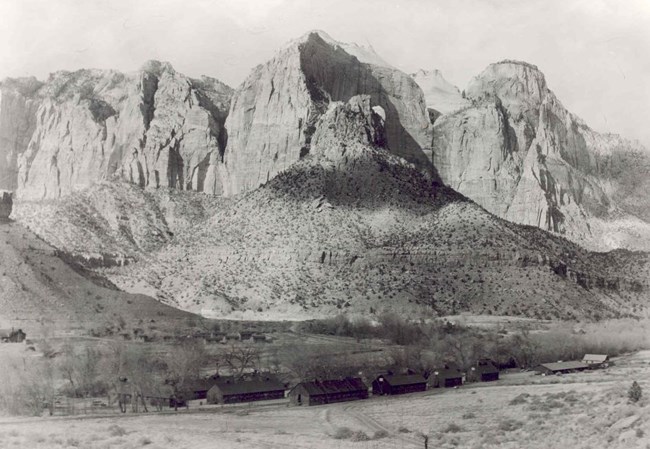 They came from all over the nation to serve in Zion National Park almost a century ago. Their futures were unclear, with a crippled economy and a lack of jobs, but Roosevelt's New Deal gave them hope. The Civilian Conservation Corps (CCC) was formed to give young men ages 18-25 employment, and to tackle environmental and structural projects across the nation. Corps members in Zion worked to construct trails, conduct erosion and flood control, protect wildlife and habitats, and more. Recently archived CCC Camp Newsletters give us a look into the lives and experiences of corps members who served in Zion. They hassled rookies, teased each other about girlfriends in nearby Springdale, fomented rivalries with other CCC camps, planned social events, and participated in professional development to help better market themselves following their service.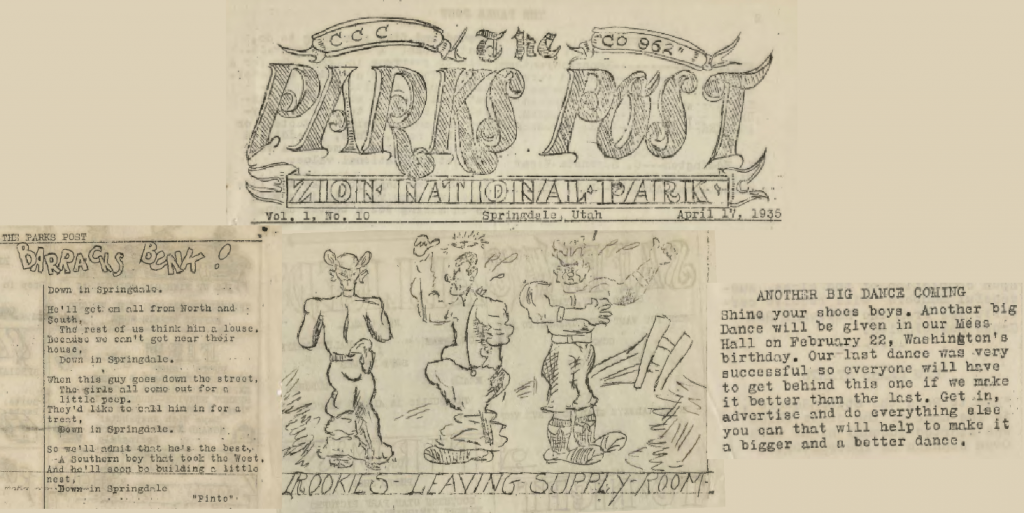 Barracks Bunk!
Down in Springdale.
He'll get em all from North and South,
The rest of us think him a louse.
Because we can't get near their house,
Down in Springdale.
When this guy goes down the street,
The girls all come out for a peep.
They'd like to call him in for a treat,
Down in Springdale.
So we'll admit that he's the best
A Southern boy that took the West,
And he'll soon be building a little nest,
Down in Springdale.
Rookies Leaving Supply Room

Another Big Dance Coming
Shine your shoes boys. Another big
Dance will be given in our Mess
Hall on February 22, Washington's
birthday. Our last dance was very
successful so everyone will have
to get behind this one if we make
it better than the last. Get in,
advertise and do everything else
you can that will help to make it
a bigger and a better dance.
They still come to serve in Zion. While CCC operations ceased in 1942 due to the war effort, the legacy lives on in the Utah Conservation Corps (UCC). The mission of UCC is to develop the conservation leaders of tomorrow through service and education. UCC recruits current students or recent graduates looking to gain experience in the fields of natural resource conservation, education, or social services. While CCC was exclusively young men, the current Conservation Corps is strengthened by a much more diverse membership. The Utah Conservation Corps includes both men and women, and boasts disability inclusive crews, veterans crews, bilingual youth corps crews, and bike crews. Corps members still develop useful skills to better market themselves following their service, and likely still hassle the rookies!

Check out this video to see what life is like in the Utah Conservation Corps:
The work done by the Civilian Conservation Corps and Utah Conservation Corps has preserved and protected some of the most beautiful lands on earth. We thank all past and present members for their service and contributions to the great State of Utah.
---
Interested in joining the Utah Conservation Corps? Learn about open positions here!
The Utah Conservation Corps is a part of UServeUtah's AmeriCorps State Program Portfolio. Learn more about AmeriCorps in Utah here.
The CCC Camp Newsletters were archived by the Utah Division of State History. Access the collection here.