The purpose of the UServeUtah Community Engagement Grant is to increase Utahns' awareness of and participation in community and/or civic engagement initiatives. Learn more about current projects at userve.utah.gov/cegrant.
BETTER UTAH INSTITUTE FINAL REPORT:
Participants: 292
Additional Initiative Beneficiaries: N/A
Participant Hours Contributed: 67
Recruited or Managed Volunteers: N/A
All Volunteer Hours Contributed: N/A
Final Summary:
Wow! What a year! We created the first module of our Civic Engagement Toolkit through both COVID-19, consistent upheaval in social media communication, and an organizational shift. But despite these challenges, we created a toolkit that is both informative and engaging and will serve as a great starting place for Utahns to learn more about civics and gain the skills they need to become more engaged in their communities. Feedback has been overwhelmingly positive, and we think we have created something that addresses a need in Utah. Through a gamified series of surveys, games, and quizzes, the Civic Engagement Toolkit educates users on what civic engagement is and how they can begin to get involved and advocate for the issues they care about to make a positive change in their community.
This first module, Civic Engagement 101, starts with two self-assessment surveys. The first helps users understand how they feel comfortable advocating, and the second narrows down their focus to one issue area. Armed with this information, through a series of digital gameplay including jigsaw puzzles, matching games, and fun quizzes, users then go through a curriculum educating users about five parts of civic engagement: getting informed, taking action, voting, building a relationship with your elected officials, and taking a leadership role. Before completing the module, users create a "civic engagement plan" where they consider how they will put everything they learned about themselves and civic engagement together to make actionable goals. They then receive an emailed pdf certificate as both a certification of completion of the toolkit and as a reference for future advocacy.
We've learned a lot along the way, and we're looking forward to addressing some of the weaknesses we have assessed in our initial rollout. While we are immensely proud of the toolkit as we introduced it, we already have plans to change the interface. We had an excellent engagement at the project's launch but saw a significant drop off after a month. We didn't have mechanisms to address that drop off adequately, but we feel confident that the new practices that we'll be implementing will help to stave that off in the future. Ultimately, we believe that we have an engaging and successful framework upon which we can build future modules, including with this next round of community grant funding which we were generously awarded, and are looking forward to adding more comprehensive and informative educational and skill-building materials that will help more Utahns become more engaged in our communities.
Accomplishments:
Whether it's learning about the different options a specific personality type has in approachinig civic engagement or gaining the skills necessary to successfully navigate through our often-fraught world of limitless information, users who use the Civic Engagement Toolkit will arm themselves with the basic education and skills that are necessary to start engaging more in our communities. Other aspects of the curriculum that users benefit from include: getting informed, taking action, voting, building a relationship with your elected officials, and taking a leadership role. When users complete the Toolkit with an individualized action plan, they then have a guide to immediately start engaging in the world around them in a way that can make a difference not only in their lives, but in the communities around them.
Participant Feedback:
"More than half the battle in civic engagement is knowing how to get started. This tool gives real examples to the students of how they can get involved."

---
EMERGING LEADERS INITIATIVE FINAL REPORT:
Participants: 425+
Additional Initiative Beneficiaries: N/A
Participant Hours Contributed: 425+
Recruited or Managed Volunteers: 20
Total Volunteer Hours: 150
Final Summary:
Emerging Leaders Initiative of Utah hosted three virtual learning and development sessions for our community featuring local nonprofit, business, and political leaders in alignment with our four pillars of civic engagement – lead by running, serving, caring, and voting.

The first session featured Clint Betts, Executive Director of Silicon Slopes, and Meg Dubray, Head of Government Affairs at Qualtrics, and was moderated by Adrienne Smith, Corporate Relations Director and Young Leader of United Way of Salt Lake City, our nonprofit partner for the first event. This first session, "Engaging Emerging Leaders" discussed how local organizations and corporations, like the ones our panelists and moderator are part of, work to engage local leaders in civic engagement, and encouraged our audience to bring those ideas to their own corporations and organizations to encourage prioritization of civic engagement from the inside of these entities.

Our second virtual session, entitled "Building Inclusive Leadership Through Board Service", featured Sui Lang L.Panoke, SVP of Diversity, Equity, and Inclusion at Zions Bank, and James Jackson III, Supplier Diversity Program Manager at Zions Bank, in discussion with our audience and ELI board members RyLee Curtis and Jeff Howell about how Generation Z and Millenials can seek out board leadership opportunities to better serve their local communities, be it local school boards, nonprofit organizations, or corporate boards and build the skills and network necessary to uniquely position themselves for those seats.

Our third and final session, "Emerging Leaders Success Stories", featured a panel of young leaders, including Rep. Blake Moore of Utah's 1st District; Allison Lew, Founder and CEO of the Braid Workshop; Mark Pittman, CEO of Blyncsy; and Taylor Stevens, reporter from the Salt Lake Tribune. In their conversation, the panelists focused on sharing the skills that helped propel their careers and answered questions from our audience on the soft and hard skills that they should explore as they seek to elevate their personal and professional leadership.
Accomplishments:
The 400-plus participants who engaged with our virtual programming walked away with tangible next steps for how to grow their personal and professional skills in networking, civic engagement, and board service. In each session, we also provided a reminder for everyone to register to vote and shared how to do so both verbally and within our chat function. Through the sessions, our participants had access to diverse role models of similar age demographics to our audience leading across the state in the corporate and social sectors to help inspire their own leadership. They were able to hear stories of real and perceived barriers to leadership that younger leaders may encounter and how our panelists navigated around those challenges to land in roles of tremendous opportunity and impact. And during each session, we had a question-and-answer portion that encouraged our participants to engage directly with the young leaders on our panels. After our event, our participants were significantly more likely than the average 18-35 year old Utah voter to indicate that they believe it is very important for people like themselves to be engaged in their local communities; significantly more likely to be very interested in volunteer work, running for office, legislative advocacy, mentorship opportunities, and board service; significantly more likely to indicate that they are extremely likely to participate in all of the aforementioned community engagement opportunities; significantly more likely to indicate that they know how to find opportunities to engage in their communities, and that they feel they have a unique and valuable perspective to share with local organizations.

---
EPICENTER FINAL REPORT:
Participants: 59
Additional Initiative Beneficiaries: 100
Participant Hours Contributed: 249
Recruited or Managed Volunteers: 8
All Volunteer Hours Contributed: 328
Final Summary:
Epicenter's Community Engagement Grant initiative focused on educating community members about the new public park Epicenter is creating in Green River, Utah, and directing involving them in the design and build process. Residents took part in site cleanups and preparations, planning and design activities, and events held on the project site. The goal of the initiative was catalyze long term change in Green River by: increasing active participation in efforts that impact public life and the community, generating greater trust and mutual support for collective action, and bolster pride, interest, and satisfaction with the physical and social/cultural aspects of local neighborhoods. Epicenter kicked off community engagement efforts in early September of 2020 by hosting an information booth at the town's annual watermelon festival, Melon Days (modified for COVID-19, the festival was only for locals this past year). The booth included a scaled site model, a submission box for park names, and sign up sheets for those interested in staying updated/getting involved. The City estimates that about 350 people attended the event in total. Epicenter also generated awareness and investment in the project by working directly with local youth; our Americorps members designed and implementing curriculum in high school classrooms and the local after school program (ages 6-12) related to the park space and the project process. This spring, we hosted a high school intern through Green River High School's work study program, who worked exclusively on volunteer coordination and site preparation for the park project. Despite COVID-related setbacks, we created a strong volunteer team for this project made up of local residents. For the design of the park, team members participated in drop-in workshops, take-home activities, and reviewed final design decisions. Team members have assisted with site preparations and cleanup in both the fall and spring, and will continue to be invited to assist with park build efforts as well as other Epicenter projects in the future. Due to an unexpected injury and an early end to term of service for one of our AmeriCorps members, we were unable to plant and host accompanying workshops in the park this spring, but expect to be able to move forward with those activities in Spring 2022. Epicenter has also received a grant from the Utah Office of Outdoor Recreation to create an outdoor classroom at Pearl Baker Park in 2022.
Accomplishments:
Participants in this initiative will have gained an awareness of local community improvement projects and their capacity to become involved in these hands-on efforts. Involvement in the creation of a new park from design to ribbon cutting has not only educated participants about the process of transforming a vacant lot, but also created investment in the park from the earliest stages of its creation. Participants who helped us design and build Pearl Baker Park will use the park more after its completion and will view the park as a point of pride for their community. With a positive experience taking part in this project, participants are also more likely to volunteer on other projects in the future, continue to build on their knowledge and skills, and expand their roles in the community.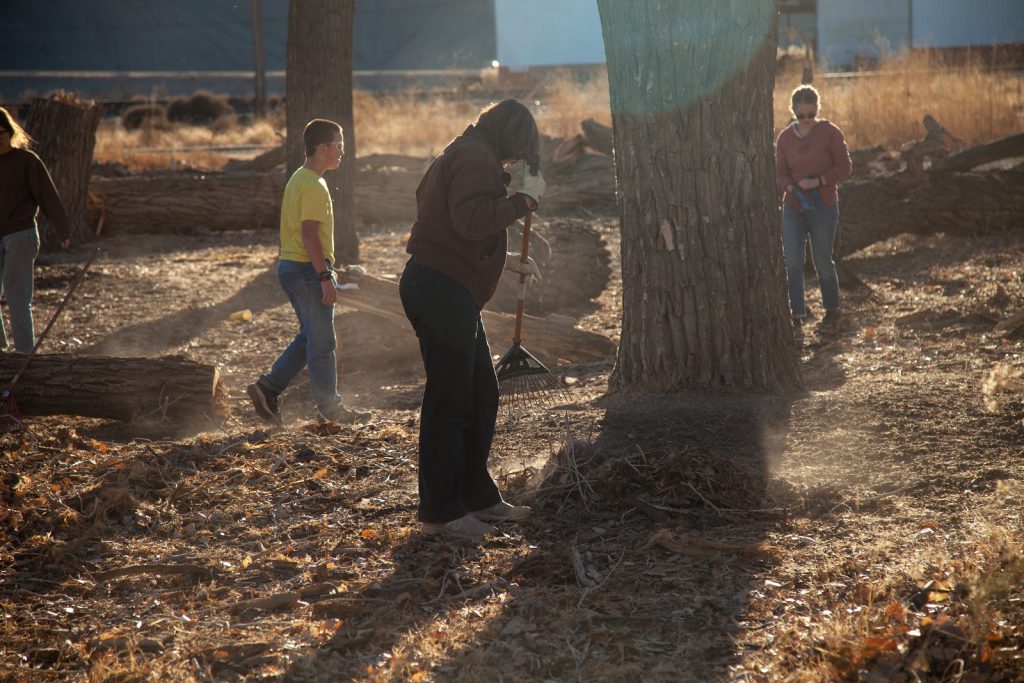 ---
LATINOS IN ACTION FINAL REPORT:
Participants: 2,886 LIA students
Additional Initiative Beneficiaries: 134 teachers & administrators
Participant Hours Contributed: 12,240
Recruited or Managed Volunteers: 16
All Volunteer Hours Contributed: 66
Final Summary:
Each year Latinos In Action partners with local universities and organizations to host our Youth Leadership Conferences. These one-day events augment the training the students receive in the classroom. Students learn from, and are inspired, by keynote speakers, workshop presenters, and gathering together as a "FamiLIA." They are strengthened in their resolve and motivated to move forward in their pursuit of an education. Due to the COVID-19 pandemic, our 2021 conferences took place in a virtual hybrid model. We held 3 conferences in Northern, Central, and Southern Utah. We had 2 "Host Schools" for our Utah North Conference and 3 Host Schools each for the Central and South conferences. Our team broadcasted live from the Host Schools during different portions of our conferences while the rest of our students tuned in virtually through Zoom. Our program included a Keynote Address by US Secretary of Education Dr. Miguel Cardona, pre-recorded Virtual Workshops from specialists in the private sector, a film screening of the documentary "Hailing Cesar", a Q&A session with Eduardo Chavez, Filmmaker and grandson of Cesar Chavez, Awards & Recognition ceremonies, and various cultural song and dance performances.
Accomplishments:
LIA students are more likely to be involved in extracurricular activities, hold leadership roles in school, and be engaged in their schools and the community at large. After a year of virtual learning, our conferences gave many students a "push" to finish the school year strong. Our pre- and post survey data determined that 39% of participants experienced an increase in supportive adults that pay attention to their lives, 27% experienced an increase in supportive adults that can be counted on for help, and 23% experienced an increase in supportive adults that believe they will succeed.
Participant Feedback:
Our team received positive feedback from Cathie Shoeck, College and Career Readiness Specialist in Granite School District: "Having the Secretary of Education Miguel Cordona's video clip was very powerful as the students at Kearns High were very quiet when they listened to him. If the students were so inspired and energized at the LIA conference, then the sky is the limit for our students at the beginning of the 2021/22 school year." Because our event was so impactful, Ms. Shoeck also invited us to motivate incoming students in the fall for a Back-to-School kickoff.
---
LOGAN FAMILY CENTER FINAL REPORT:
Participants: 8,000
Additional Initiative Beneficiaries: 50,000
Participant Hours Contributed: 100,000
Recruited or Managed Volunteers: 125
All Volunteer Hours Contributed: 4,000
Final Summary:
We had a very successful project. Our service campaign consisted of hundreds of posts over the 12 month period that both educated families about service, service opportunities and served as. a regular reminder to families to participate in service. In addition, more than 100 family adventures included a community engagement component that gave participating families an opportunity to serve the community at least weekly, and often more than weekly. In addition, we held specific service activities for 9/11, Family Volunteer Day, the holidays, MLK Day, and Global Youth Service Days. We worked with Epik Deliberate Digital to establish the cyberseniors program, we had several projects designed to serve seniors. We also helped establish a RAK community that currently has almost 2,000 members that share weekly and daily acts of service. We have seen a significant change of attitude toward service and behaviors. We also saw a significant change of attitude and behavior through the responses families submitted when completing their Adventures. We also were able to receive incredible feedback from the goosechase app feedback.
Accomplishments:
We received multiple responses that indicated that because of the focus these families have established on service now the children and parents alike will continue to make service a part of their every day life. In addition, the partners that we worked with will continue to be intentional in their planning and will create more service opportunities that families can participate in together. We also had an opportunity to support several other organizations in their work which will have a significant impact on many people. This includes the Utah Civic Learning Collaborative, the Youth Leadership Summit, several community coalitions, Box Elder Runs Strongs and many other non-profit organizations and events.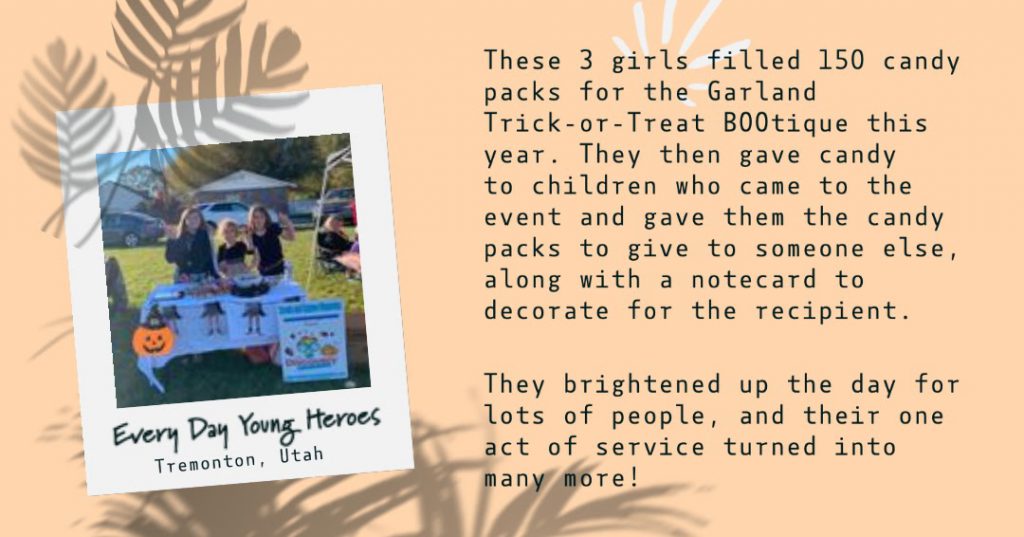 ---
PANGUITCH PREVENTION COALITION FINAL REPORT:
Participants: 300
Additional Initiative Beneficiaries: 300
Participant Hours Contributed: 2,400
Recruited or Managed Volunteers: 300
All Volunteer Hours Contributed: 2,000
Final Summary:
The city owns a piece of property that doesn't get a lot of attention because of limited budgets. It is a great space once used by school groups known as the outdoor classroom; used by families, youth groups and kids as a fun space to enjoy and spend time together. The funds helped revamp the space, making it more of a space for families and community groups to come together and use for more meaningful time together. Our prevention group promotes families bonding and spending time together address substance abuse prevention and mental health issues. This project was a great way to show families that spending time together can be service for the community. Community engagement can be family engagement too. We had a community/family volunteer day where families came and worked together on improving the area.
Accomplishments:
We set volunteer days that individuals could come and help at the park. We invited particular groups to help as well. (Vista groups, School groups, youth church groups etc) We wanted families to be engaged, so we have family volunteer days. 67% said they would likely volunteer in the future, 83% said they understand the benefit of volunteering, 100% said they benefitted from participating in the project, 94% said the park project has improved the community. Comment was "service makes community better", one mom said that, "my grade-school daughter has taken a lot of pride in participating in the cleanup and loves this area."
---
RECYCLE UTAH FINAL REPORT:
Participants: 742
Additional Initiative Beneficiaries: 500
Participant Hours Contributed: 64,554
Recruited or Managed Volunteers: 7
All Volunteer Hours Contributed: 75
Final Summary:
Throughout the year long Community Engagement Grant initiative to Pick Up Park City, we had participants throughout the entire Summit County community get involved in cleaning up trash from the streets. What started as an idea to clean the debris showing when the snow started melting, turned into a full year engagement with local families, businesses, non-profit groups and neighborhoods. There were small groups, such as a mother/daughter combo, Earth Day events with HOA's and business parks and even events in partnership with Park City Municipal and Summit County. We have even had a dedicated group led by a local leader, David Nicholas who has taken individuals and groups alike out on trash clean ups each weekend for 16 consecutive weeks. This community engagement clean up will continue past this grant period, as the involvement and positive reaction has been overwhelming. Throughout the process, Recycle Utah has connected Park City Municipal, Summit County, Basin Recreation and UDOT with the groups organizing cleanups. All parties involved were so excited and happy to work together on such an important community project and now communicate directly with one another instead of having Recycle Utah facilitate each collection. Our numbers fell short of the target of the 1,250 participants and 2,500 community members involved. We unfortunately missed out on a big part of the year and a few annual community cleanups due to COVID 19. This global situation affected our initiative and the overall number of participants that were able to participate. Large groups were either hesitant or not allowed to gather in large numbers. Even with an outdoor event/activity, there were limitations due to this. Recycle Utah is confident that with the continued progress of Pick Up Park City, we will be able to reach these numbers over the next year. Our commitment and ability to organize and loan out trash cleaning supplies will continue and not be deterred.
Accomplishments:
The participants of Pick Up Park City were diverse in age, location, gender and income. Whether it was a family, local business, non-profit organization, school or other group, individuals were empowered to get outside and clean up in places they truly felt a need for. These activities were not only tangible and noticed by those participating, but community members driving, riding their bikes or walking by would stop to either thank those involved or take the time to join them that day or set up another clean up for another time. We saw letters to the editor in our local paper thanking the service from these community members and even spotlights and features in other non-profit newsletters. What started as a way for Recycle Utah to get Summit County residents involved in cleaning up their neighborhoods, turned into a community wide program that continues to grow each month. The UServeUtah Community Engagement Grant exceeded our expectations and has grown into a program that now lives within our community.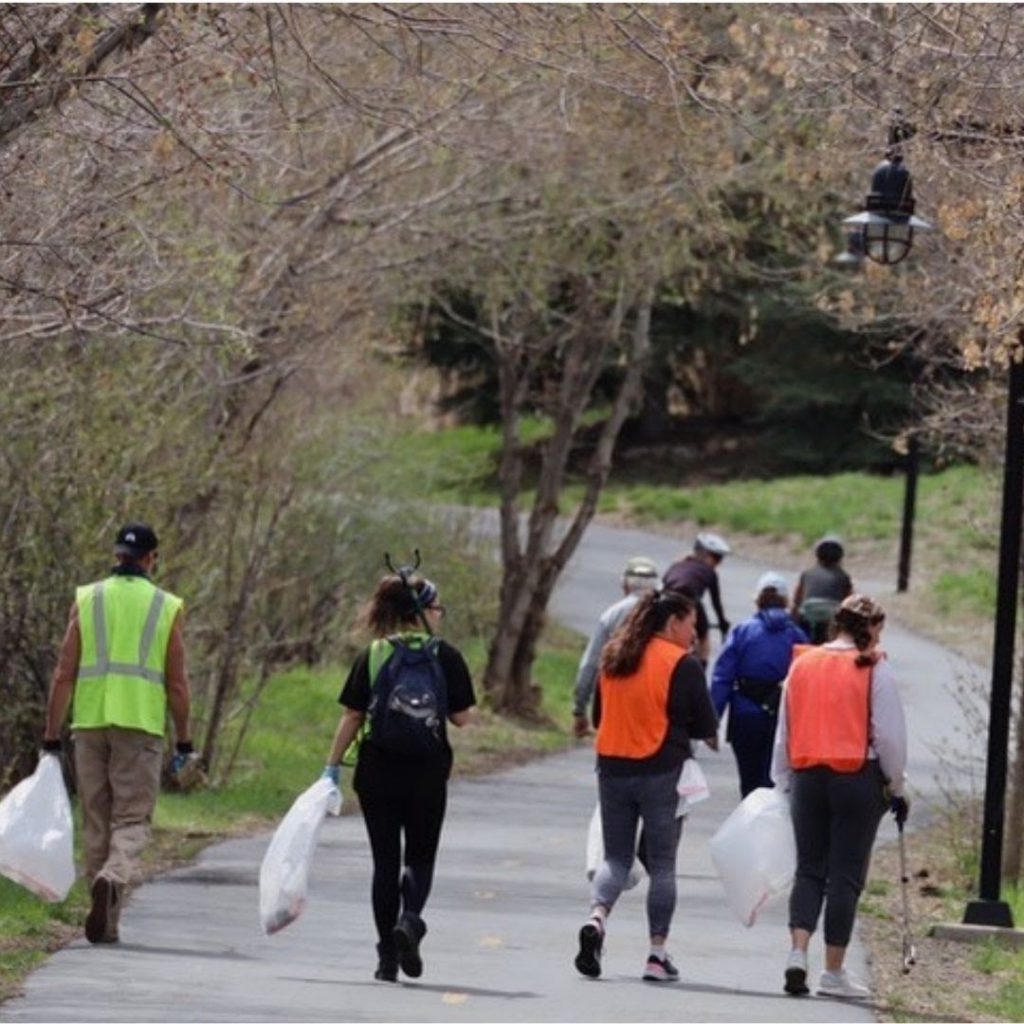 ---
SANDY CITY POLICE DEPARTMENT FINAL REPORT:
Participants: 79
Additional Initiative beneficiaries: 96,601
Participant Hours Contributed: 398
Recruited or Managed Volunteers: 2,079
All Volunteer Hours Contributed: 36,658
Final Summary:
To prevent and decrease certain types of property crime the Sandy Police Department will develop a #SandySecure initiative. #SandySecure will raise awareness in the community about property crime such as residential burglary, vehicle burglary and theft, bike theft and mail and package theft. By educating citizens on on simple crime prevention techniques and encouraging them to engage and follow those techniques property crime can be reduced and or prevented.
Accomplishments:
Individuals who became engaged through #SandySecure will benefit from participating in the following ways.
1. They know the impact property crime has on a community and why crime prevention is important.
2. They know how to prevent 4 different property crimes (residential burglary, vehicle burglary and theft, mail and package theft, and bike theft) so they don't become a victim.
3. They know how to be a more observant citizens in the community.
4. They know how to properly report a crime and the difference between using emergency 9-1-1 versus non-emergency dispatch 801-799-3000.
---
THE VILLAGE PROJECT FINAL REPORT:
Participants: 58
Additional Initiative Beneficiaries: 338
Participant Hours Contributed: 333
Recruited or Managed Volunteers: 61
All Volunteer Hours Contributed: 445
Final Summary:
Resources available through the local court system and schools are not sufficient to compensate for this lack of parental and social support. Supplemental resources must be drawn from the community. The Village Project Mentor program was created with this goal in mind. Since 1994 more than 1,200 youth in Salt Lake County have been assigned individual mentors who have been able to help bridge the gap. Volunteer mentors have been able to provide these youth homework support, social skills, and access to community resources. Mentors are able to fill a critical need in the lives of these youth. Quality mentors are able to provide consistent caring relationships to youth in need. Studies have shown that the presence of a caring adult can make the difference in a youth's decision to stay in school vs dropping out, using illegal drugs and engaging in underage drinking vs joining a local recreation activity. The risk is too high to not act. Youth with at least one supportive adult in their lives have a more positive outlook on their future. Volunteer mentors provide experiences that provide life-long impacts. Additionally youth are able to participate in career exploration events. Eligible youth are able to transition into a college bound program in collaboration with the Salt Lake Community College. One on one support is provided to reduce the barriers that may traditionally result in lower enrollment and completion rates for at risk youth.

In December as Village Project volunteers struggled to find a sense of community and purpose while being cut off from the normal in person activities of mentoring, volunteers rallied to provide support to a family in need during the holiday season. As a result of the time and effort of a small group of community volunteers a family of five were supplied with food and holiday gifts for the children of a single mother. In March the Village Project mentors participated in a food & hygiene drive benefiting the Bruin Pantry at Salt Lake Community College. The Bruin pantry aims to provide free items to students, faculty, and staff in need. According to SLCC.edu national survey data shows 45% of college students have recently experienced food insecurity. Approximately 500 lbs. of food and other hygiene items were donated. This project was done in conjunction with the Travis Manion Foundation (https://www.travismanion.org). 1st Lt Travis Manion was a U.S. Soldier who lost his life while courageously trying to save his fellow soldiers in combat. The Travis Manion Foundation's motto is "If not me, then who…" The foundation encourages everyone to take initiative and step up when they see something that needs to be done in the community no matter how big or small. Last but not least, let me introduce you to Jack and Sam. Jack is a decorated retired US Army Lieutenant and current Director of the Salt Lake City VA Regional Office. Sam is a 14 year old refugee from Africa. It may seem an unlikely pairing but over the past year Jack and Sam have gone from visits with very minimal conversation to long very candid conversations about friends, school, and future plans. Jack has been in a position to introduce Sam to activities that he may have never had the opportunity to experience otherwise. Sam has learned to snowboard, rock climb, he attended his very first professional basketball and rugby game, and just this past month he was able to ride a rollercoaster for the very first time. Sam has gone from being a youth who was on a path to incarceration to a youth now on a path that includes goals of graduation from high school.

Jack was asked by UServeUtah to share his story and this is what he had to say: "I appreciate my volunteer service with the Village Project; especially during the challenges of the Pandemic, it provides a chance to give back to young people here in Utah in a meaningful and purposeful way. I appreciate the spirit of, and commitment to, volunteer and community service here in Utah, and great community partners like the Village Project that provide the right opportunities to work to make a difference for others who may need our help or assistance." -Jack K.
Accomplishments:
The Community Engagement Grant has allowed for opportunities for youth that would have otherwise not been feasible which include participation in activities that are often limited to those youth from middle to upper economic backgrounds. Additionally, 61 volunteers were able to provide service which became even more important during the past fifteen months. According to thewholeu.uw.edu at a time when 33% of American's are experiencing pandemic-related anxiety or depression, studies have shown that volunteering can lead to longer, healthier, happier lives. Sixty-one volunteers were able to find their place in the world of giving with the Village Project. They were able to stay connected by participating in virtual town halls with other volunteers, meet with youth virtually, and engage in community service projects. Volunteers were invited to participate in a survey to gage their experience volunteering with the Village Project. Of the responses received, 100% indicated that they feel the Village Project provides them with a meaningful opportunity, 100% indicated that they believe their interactions with staff have been positive, 85.7% indicated that they believe their volunteer time not only supports the cause but also brings positive light to it, and 100% indicated that they are comfortable with where their volunteer time and money is going.
---
UINTAH COUNTY LIBRARY FINAL REPORT:
Participants: 50
Additional Initiative Beneficiaries: 200
Participant Hours Contributed: 448.5
Recruited or Managed Volunteers: 60
All Volunteer Hours Contributed: 118.5
Final Summary:
With funding from UServeUtah we administered a successful Teen Community Engagement series of activities. We originally applied for this grant three months prior to the onset of the worldwide Covid-19 pandemic. We sought to develop a core cadre of teen volunteers and to equip them with skills that would enable them to engage with the community. To this end we saw some huge successes and a few challenges. After re-evaluating which aspects of our grant could be completed amidst the pandemic we transitioned the Teen Reporter Corps to an entirely online program. Working with teens we developed for programs: The Teen Reporter Corps, Heritage Museum Core Volunteer Program, Prom Dress Drive, and Teen Mural Day at the Library.

1. Engaging teens with radio journalism production through the creation of a Teen Reporter Corps in partnership with Utah Public Radio and Evans Family Media (the latter based in Vernal, Utah). In the Teen Reporter Corps, teens were paired with mentors from Utah Public Radio and attended weekly Zoom based classes for eight weeks that covered areas of journalism from identifying a story, interview techniques, fact checking, sound production, and media layering. Much of the CE grant was spent on technology to support this series of events. This was the program that the staff was most excited about initially. However, of the many teens who started with this program only one completed her story. We did not count on the zoom fatigue that seemed to impact local teens who spent much of their school days in front of computer screens. With the exception of one, each teen who started the program dropped out after the third or fourth week of the series. After interviewing the teens who started to participate and then left the program we verified that the Zoom fatigue coupled with a two month time commitment was too much for some of the teens. To better engage these teens we then worked with local media company, Evans Family Media, to get these teens into the radio studio for some hands on experience where they recorded ads for the Core Volunteer Program and the Prom Dress Drive (two of the other areas of our grant.).

2. The establishment of a core volunteer program at the Uintah County Heritage Museum to engage teens and adults in the areas of cultural history and community engagement. The delays in physical gathering only allowed us to kickoff this initiative and the Museum's staff has been ecstatic about the quality and engagement of the teen volunteers in this program.

3. A prom dress drive: In Spring 2021, Uintah High School announced that student who tested negative for Covid-19 48 hours prior to a scheduled prom could attend. With this background our teen volunteers shared the insight that few families would be willing to purchase often expensive prom dresses for an event that one had to test negative for covid to attend. So they organized a Prom Dress Drive and they partnered with a local museum to host the drive, assist in cleaning the dresses, and facilitating teens in trying on the dresses in a manner that met the requirements of the Tri-County Health Department's Covid-19 directives. The teens spread word about the need for donations and then they received, cleaned, and repaired 300 dresses. Of these over one hundred were given to local teens for this year's prom. The remaining dresses have been given out more broadly in the community to people in need of formal wear. The teens who participated in this event also helped to advertise it on the radio and had a lot of fun recording the radio ads. Barry Johnson of Evans Family Media introduced them to writing and editing radio ad copy and showed them how to layer in sound effects.

4. Teen Mural Day 2021: in the Culminating event of our Community Engagement Grant local teens worked with professional artists to paint two murals in the Uintah County Library in 2021. One mural is of two children reading books with an imaginary rocket launching in their minds. The second is of Utah's state flower the Sego Lily. The artists engaged the teens, some who had never painted before, and demonstrated technique, and shared their stories about how art can influence a community.
Accomplishments:
With our multi-pronged program, different teens volunteered in different areas, Some 140 people tried on dresses, and 90 were given away. The others were donated to agencies that serve teens. Those who participated in the Teen Reporter Corps are poised to begin podcasts, further education in journalism, and possibly one will do an internship with a local media company where she will record ads for local companies. Three participants are going to continue to volunteer, and in conjunction with the local USU-Extension office they will teach and participate in an Healthy Eating Mentoring Project for Small Children, work with Local 4-H "Create Better Health Utah".
---
UNIVERSITY NEIGHBORHOOD PARTNERS FINAL REPORT
Participants: 25
Additional Initiative Beneficiaries: 85
Participant Hours Contributed: 360
Recruited or Managed Volunteers: 85
All Volunteer Hours Contributed: 445
Final Summary:
The Westside Leadership Institute is a mutually beneficial community-university partnership that supports Salt Lake City west side residents and community-based organizations' efforts to take action for positive change in their communities. Despite many challenges during the COVID-19 pandemic, the Westside Leadership Institute has engaged with 21 participants through Fundamentals and 4 participants in Startups. Classes were offered virtually via the Zoom and Canvas platforms, and community projects were implemented throughout west side communities. The impact of the UServeUtah funding made it possible for the Westside Leadership Institute to provide needed technology to participants who did not have access or connectivity, and would otherwise not have been able to join the class. Engagement with community and University participants in this way created opportunities for leaders to address west side needs through collaboration and innovation during a time when communities needed it the most.
Accomplishments:
Accomplishments via Fundamentals by Westside Leadership Institute:
Leaders learned how to connect and utilize community resources through involvement with the community and University;
Leaders built leadership skills & became confident in their individual abilities to lead;
Leaders collaborated in groups to apply their skills to grassroots, community-led project;
Leaders gained a clear understanding of the Westside Leadership Institute partnership and its resources.
Accomplishments via Startups by Westside Leadership Institute:
Startups were knowledgeable, sustainable, paired with a mentor, and received added support;
Startups were socially innovative, drove community solutions, and generated new knowledge;
Startups served as bridges between university resources and west side neighborhoods;
Startups supported the health and well-being of west side neighborhoods;
Startups increased capacity to implement culturally responsive strategies that incorporated a diverse understanding of and approaches to education & well-being;
Startups spaces were accessible to and visible to west side residents;
Startups spaces were sustainable with robust services;
Startups spaces created a "united community" of shared resources overcoming barriers to success.
---
UTAH HISTORY DAY FINAL REPORT:
Participants: 652
Additional Initiative Beneficiaries: 307
Participant Hours Contributed: 32,600
Recruited or Managed Volunteers: 307
All Volunteer Hours Contributed: 3,070
Final Summary:
This initiative supported NHD Utah at the local and state levels throughout the program year. During August 2020, we purchased NHD curriculum and rule books and mailed classroom kits to 89 teachers across the state to help them prepare for the upcoming school year. These materials supported the teacher training sessions and additional curriculum tools that our staff developed in collaboration with other state and national affiliates throughout the summer and fall. During the spring competitions, this grant supported our state and local contests with supplies and materials. The pandemic shaped our program in fundamental ways. School districts and schools handled the pandemic in widely varying ways. Teachers reported they were overwhelmed with the demands of remote learning and quarantines. This led many who planned to use the program to drop NHD from their classes this year; those teachers who did continue to use NHD reported having less time to work with students on in-depth projects like NHD. In response, NHD staff rebuilt and reconceptualized our classroom supports so they could be used in remote, physical, and blended learning settings. All of our competitions were held virtually rather than in person. Nonetheless, we hosted successful local contests in Cache/Box Elder, Weber/Davis, Ogden District Salt Lake, Canyons District, Utah Valley, Price/Emery, and Washington counties. These contests served 712 participating students. Our State Contest in April served 288 students, and 59 outstanding projects are advancing to compete at the national contest, held virtually this June.
Accomplishments:
Our students come away with lasting knowledge and skills that prepare them college, and for informed engagement in civics and in their communities. 77% of student respondents reported significant improvement in their research skills, and 80% learned how to find and assess credible information on the internet. Teachers reported the following: "Yes, it is helpful teaching civics because we are teaching students how to appropriately research and sort through bias;" "It helps students learn how to find reliable information and helps them interact with their community through research;" "Yes. We teach about how to tell what a reliable source is, how to corroborate information, and how to properly cite information;" "Yes, it is teaching important critical thinking and source evaluation skills."
---
UTAH STATE BOARD OF EDUCATION FINAL REPORT
Participants: 400
Additional Initiative Beneficiaries: 3,461
Participant Hours Contributed: 1,080
Recruited or Managed Volunteers: 17
All Volunteer Hours Contributed: 1,109
Final Summary:
Over the grant period we were able to successfully launch the Utah Civic Learning Collaborative, an informal alliance of educators, nonprofits, policymakers, and academic partners dedicated to preparing youth for civic life. All told the UCLC has directly and substantively engaged:117 individuals representing 93 organizational entities. Of those, 10 are academic partners; 4 are school district equity specialists; 4 are government leaders; 2 are school district or school administrators; 4 are policymakers; 27 are nonprofit partners; 6 are from simulations programs like We The People; 2 are social studies leaders; 9 are students; 24 are teachers (mostly social studies); 8 are Utah State Board of Education staff or members of the Board. An additional estimated 283 educators were directly engaged. This estimate is based on two considerations: 1) Database and Google Analytics tied to engagements from distribution of the UCLC's new teacher newsletter, Spark Civics; and 2) Our understanding of engaged teachers' readiness and capacity to implement new civic engagement strategies with their students; That understanding is based on a class of 21 teachers enrolled in the intensive 'Doing Civics' endorsement course (taught by the UCLC facilitator). Feedback from these 20 teachers has further helped us understand the impact of COVID and distance learning on educators' ability to apply fresh civic teaching and learning insights. Indirect impacts are more difficult to estimate. Each of the UCLC's 4 work groups has been working on priorities identified through a rigorous "Theory of Change" process (shown here: https://www.placeforallutah.org/uclc). A deliberate effort has been made to recruit and engage ethnic diversity at all levels. Approximately 19% of those engaged are people of color.
Accomplishments:
Specific accomplishments include:
1. Engaging a breadth of perspectives, including students, and different types of partners, as noted above, and keeping most at the table and deepening their involvement. As the conversations have evolved, we've been able to leverage relationships of partners to grow the circle of partners dedicated to civic teaching excellence. Through this work and the trust we have built over the grant period, we caught the attention of Rep. Lowry Snow, sponsor of HCR 15, a resolution that passed in the 2021 legislative session that formed a civics education working group. He and his aid have been meeting with us (Robert Austin and Judi Hilman) on a weekly basis to build a productive alignment between the HCR 15 working group and the UCLC.
2. Implementation of Spotlights on Excellence blog series as a way to clarify
3. A professional development calendar to help educators prioritize training opportunities and so they are not "drinking from a firehose," as we often say.
4. We debuted a monthly e-Newsletter for teachers: SPARK CIVICS, which highlights professional development opportunities and shares curriculum content, among other areas of focus.
5. We have been working to curated curriculum content for emerging areas of civics education, including digital citizenship, media literacy, economic education, education about the courts and third branch.
6. As noted above, we are partnering with My Discovery Destination on GooseChase App: Family Civics Chase to test ways to bring civic learning into homes and families. "
---
WEST VIEW MEDIA FINAL REPORT:
Participants: 42
Additional Initiative Beneficiaries: 37,459
Participant Hours Contributed: 1,290
Recruited or Managed Volunteers: 242
All Volunteer Hours Contributed: 1,532
The West View and West View Media used this grant to inspire civic engagement among the historically underrepresented communities on Salt Lake City's West Side, specifically focused on issues of racial and gender equity, social justice, community resources, and access to traditionally exclusionary spaces and activities.
In our approach, civic engagement has several aspects, including providing awareness of and contextualizing local issues, politics, and events; providing access to community resources and advocacy opportunities; providing a platform that develops and broadcasts marginalized voices; and providing an opportunity for community members to collectively speak with one voice: theirs.

In addition to providing a platform for these voices, we also solicit feedback from diverse readers and contributors through various channels in order to embrace diversity and inclusion internally and ensure editorial initiatives don't preclude unheralded community voices; rather, those initiatives are guided by them. TWV is, after all, a community organ, and using community feedback to shape policy and direction better helps us serve the diverse communities of the West Side.

As with all of TWV's issues, the three sponsored issues provided a platform for hyper-local, intimate, authentic journalism–voices telling their own stories and contributing to and engaging with the larger cultural, social, and political conversations that traditionally exclude marginalized voices. This approach empowers historically underrepresented voices from a diverse community to create their own narratives and raise awareness in other community members of the unique challenges experienced by those underrepresented demographics while respecting, recognizing, and privileging the diverse backgrounds that collectively constitute the rich tableau of Salt Lake City's West Side.

About West View Media's Community Newsrooms
The West View's newsroom model is unique in that it focuses primarily on inviting local community members to help determine what stories are newsworthy and to engage nonprofessional, "citizen" journalists in telling those stories. Readers can expect to see people of all different shades and walks of life throughout the paper, as they will while walking through our neighborhoods or strolling through the aisles of our grocery stores.

We actively invite diverse members of our community to attend monthly community newsroom meetings, and we coach them through the process of reporting, expressing their opinions or telling their own life stories through writing. Over the past year and a half these meetings have been held virtually due to the pandemic.

Attendance in the community newsrooms (which is what we were tracking towards that 150 mark) was drastically reduced by COVID. The newsrooms are typically in-person affairs held at community locations like Mestizo Coffee. During most of 2020, the meetings were moved online through Zoom. Participation fell off a LOT as a result.
That's indicative of the preferred methods of engagement for much of our diverse contributor base and is yet another symptom of how the pandemic restrictions created unequal impacts on different communities. Whiter, more affluent communities with greater time, professional, and technological resources simply relocated life online; those less privileged didn't enjoy that luxury.

We're still not meeting in person, though participation in virtual newsrooms has begun to pick up since mid-summer, corresponding with the gradual re-opening of society but falling outside of the window for consideration in this grant report.

As for the reporting on the survey, I was disappointed we didn't get more engagement from our contributors, and that those who did respond often omitted demographic data. Fair for them, as I made a conscious choice to not require that data and to also not erase their choice to omit it by simply including it myself, but it does deflate our numbers somewhat, especially in terms of the diversity of voices that constitute West View Media.

One benefit in terms of reach/scope that we were able to net from the grant is that we used the dollars to double distribution for our COVID issue, which is itself strongly representative of the diverse voices, perspectives, and pandemic experiences in the community. So although our participation was down b/c of COVID, our reach throughout the community via readership was greatly expanded by the grant monies.
Accomplishments:
Above, we gave a working definition of our understanding of civic engagement, which is largely adapted from West View Media's guiding mission and values statements. Here, we present a much (much) longer list of how these benefits manifest in the sponsored issues and the work that produced them. This is built on contributor feedback, reader responses, survey ratings, anecdotal evidence observed by our editorial staff and administrative personnel, and–of course–the articles we've published online and in print.

The list is divided into sections based on the different aspects of civic engagement we define above:
1. Providing a platform that develops and broadcasts marginalized voices.
2. Providing awareness of and contextualizing local issues, politics, and events.
3. Providing access to community resources and advocacy opportunities.
4. Providing an opportunity for community members to collectively speak with one voice: theirs.

But first, some numbers, as there's not a more graceful way of including this breakdown. Of the 42 unique contributors to the three issues, 12 of them were persons of color. Across those issues, we had 48 total submissions, 15 of which were written by Black, Latinx, or other non-white contributors and 23 of which relate specifically to issues of racial equity, social justice, and/or civic engagement. On a scale of 0 – 5, the respondents to our survey reported average increases in "Awareness of Diversity" and "Cultural Sensitivity" of 3.91 and 3.5, respectively. (Interestingly, the only respondent who reported no change in either category after working with The West View self identifies as "white.")
And now, the four civic engagement categories with examples:

1. Providing a platform that develops and broadcasts marginalized voices

Developing new voices; serving established ones.
Above, we described one new writer's journey to self-expression, but other contributors of color are already advanced communicators and scholars, themselves helping develop a new generation of equity and social justice activists. One such voice–a university professor who teaches African American literature and Black Feminism–contributed an article about a young scholar who she helped produce a study on Black Feminist authors.
Providing a platform for the professor to introduce the community to the work of the young scholar is an ideal example of the outreach provided in The West View's pages, an example of raising general awareness about racial equity and social justice pioneers, but also helping a current leader in advocacy introduce a future leader to the art of public discourse.
In an issue following the documented rise in national anti-Asian speech and hate crimes, we published another article featuring young voices led by a mentor figure. It's co-written by four elementary school students (working with a faculty advisor) about their experiences dealing with the unique landscape of prejudices and intolerance faced by America's so-called "model minority." The article considers personal experiences and experiences of family members going back to WWII, detailing the presence today of intolerance and hate but also highlighting the generational impact of interpersonal and systemic racism.

Challenging the limitations of identity-based speech.
The West View foregrounds underrepresented voices in a way that is overtly activist in some articles and opinion pieces, but is also implicity activist in that it lets persons of color, women, and other minority groups speak as journalists and engaged community members, not just token representatives of their race, sex, or cultural traditions, confined to addressing areas related only to their identities.
One example of this is a pair of articles celebrating the relationships between fathers and daughters. In the articles, the families' Latinx heritage was present, but as background information, with the articles' narratives instead centering the lived experiences and shared lives of its subjects. Race isn't elided altogether, it's just not the focus, letting the fathers and daughters be, primarily, fathers and daughters against a backdrop of Latinx heritage.
Another, more subtle example of this includes using images for outdoor-activity articles (such as the bilingual March 25 article on the Every Kid Outdoors initiative) to showcase persons of color simply enjoying outdoor activities that are historically exclusionary of minority demographics. Though the legacy of systemic racism is always present and typically warrants examination, representing moments like this without any framing helps to normalize the idea that persons of color can participate in outdoor activities without carrying the expectations and burdens of tokenism: they can simply enjoy themselves as kayakers, hikers, campers, etc.

2. Providing awareness of and contextualizing local issues, politics, and events

Local platform, local narratives, local empowerment.
The paper is hyper-local, so it's more effective at telling local stories than larger platforms like the Tribune or KSL, and it better represents the non-traditional voices and opinions that mass media outlets necessarily eschew when they assume a readership that's white, heteronormative, and male. As one Latinx reader put it, TWV communicates to "the community in a less painful way" precisely because it's built on the diverse voices of community members.
Almost all written and every session of spoken feedback from readers and contributors alike stressed the value of access to political figures and community leaders. The West View provides a platform to engage with–and hold accountable–the figures making decisions about development, services, and other community issues for voices that are otherwise often marginalized. As one respondent puts it, "The fact that I, just a rando [sic] person, was able to reach out to [city council member] Andrew Johnson and just be able to talk with him" is a significant act of empowerment.
Example of published articles include a review of how Mayor Mendenhall's policies are impacting the West Side specifically; profiles celebrating community voices like Florence "Honey" Lawrence (read this piece if you don't read any others; and multiple explorations of how local, minority-owned businesses were affected by and rebounding from COVID.

Perception of the community from within and without.
Much of the feedback we've received has mentioned a positive impact on the perceptions of the West Side and its population. For these respondents, TWV plays a role in shaping that perception by providing a portal to understanding the community for long-time residents, new transplants, and those in the larger Salt Lake area alike, with contributors noting that even people outside of the West Side are aware of the paper and of their contributions.
"I've had people who didn't know I lived on the West Side approach me at school and work," notes one respondent. "There's a lot of pride in the West Side," noting that TWV provides a platform to voice that pride and advocate for the community by countering stereotypes that are often extensions of systemic or culturally ingrained racist ideologies, "countering the voices that say 'oh the West Side's terrible,'" largely because of the diverse population.
Respondents also noted that TWV educates non-locals about things like food (much of recent reporting has been on the community's growing population of food trucks–perhaps it's time to get back to showcase some brick-and-mortar operations), helping the Salt Lake area realize, for example, that there are more dining opportunities on the West Side than just Red Iguana. It's a lighthearted anecdote, but it also speaks to the ingrained nature of assumptions about the West Side, many of which are, again, often rooted in unconscious biases about race, ethnicity, and economics.

3. Providing access to community resources and advocacy opportunities

Local voices, local action, local opportunities.
Informing community members is another very obvious example of The West View's impact on civic engagement. The recent article keeping readers abreast of developments in the Salt Lake Racial Equity in Policing Commission, including broadcasting the City's calls for community input, help support exciting trends of racial equity awareness and social justice activism.
Our suite of COVID-related articles, including a dedicated issue but necessarily spilling over into coverage in other issues, also addresses racial inequality, examining disparities affecting individuals and communities of color in COVID risk, outcomes, and the systemic racism that contributes to them. The articles' focus is always to inform and provide helpful resources and actions that locals can take to improve their health and the health of their neighbors.
Another COVID-related item involves the rental assistance program funded by federal dollars, which we partnered with Salt Lake County to raise awareness of. The resources we provided include explanatory articles in English and Spanish, plus a full page English/Spanish ad directing readers to resources available in nearly a dozen languages.
Other articles of note include a piece about the Suazo Business Center, which celebrated both the late founder's life of advocacy and activism as a state senator and the present-day center's ongoing contribution to minority-owned businesses. Our community resource push represents artistic and cultural resources, too, with articles about the Utah Art Alliance's Art Castle project, which will bring opportunities for live performances and artistic education to the West Side, and pieces about community staples like the Utah Fairground.

4. Providing an opportunity for community members to collectively speak with one voice: theirs

Connecting community members of different backgrounds.
We feel that by sharing those voices and letting them tell their own stories–as well as simply report on issues like infrastructure, planning, and topics without an implicit connection to cultural diversity and racial equity–we're promoting inclusivity and contributing to a cross-cultural, multi-racial conversation that includes and empowers West Side voices from communities marginalized by systemic racism and exclusionary policies and practices.
A reader and contributor who identifies as Latinx noted, "when people are reading the same thing, telling the same stories about their community and supporting what they and their family and friends know and believe, it becomes easier to unite them." This statement was specifically made in the context of effecting positive change to support marginalized groups. It's not always straightforward, though.
One example of this includes community responses to our extensive coverage of the Black Lives Matter movement and the community's response to the police killing of Bernardo Palacios-Carbajal. We received admittedly mixed feedback about our BLM/BPC coverage, and it led to some introspection in the newsroom.
We decided ultimately that language driving divisions had no place in The West View, even if it came from otherwise well-intentioned community members, as that language doesn't support our mission of inclusivity and connectedness. We're aware of–and understandably self-critical about–our role as gatekeepers for speech on a community platform. Providing access is, after all, among our foundational missions; however, our ultimate aspiration is an informed community that can better advocate for itself in support of its most vulnerable members, and we recognize that not all community speech supports that outcome. This (and the noted presence of racist iconography, a Confederate battle flag, displayed in the community) ultimately led to our From the Editors statement about diversity and empathy.

Community guidance for topics of interest
A crucial benefit of the intensive outreach effort we've done for this grant reporting is community guidance of the topics and issues our readership would like to see covered more, the most common of which are the state of public schools, infrastructure, and development planning on the West Side. Each issue is guided by the community through our community newsrooms, of course, but this outreach has enabled community-informed pre-planning for upcoming issues.
For West Side public schools, the prevailing attitude from minority demographics is that the schools aren't adequately serving the community, shaded with impressions that other school districts around the city are better supported, better funded, and better functioning. In response to this feedback, we've begun a push to include two stories about West Side public schools in our Fall 2021 issue with the aim of educating and informing engagement.
City planning is a trickier proposal, with respondents citing "seemingly random" construction, poor walkability, traffic bottlenecks, and neighborhoods bisected with busy thoroughfares–all issues that are common in communities with diverse or large non-white populations. In response to this feedback, we're partnering with another local organization, Building Salt Lake, to examine the connections between city planning and infrastructure development with the daily lived experiences of the West Side's diverse community members.
Both of these new initiatives will necessarily involve a frank acknowledgement of the disproportionately negative impact public school disparities and ineffective planning have on communities comprising cultural, racial, and economic minorities. In all cases, our aim is to create generative, informational content that opens new avenues to effect change, improve outcomes, and positively quality of life for the most marginalized members of our community.
---
The following grantees postponed their initiatives to the 2021-2022 project period due to COVID-19:
Emery High School Honor Society
Salt Lake City School District
Utah Division of Multicultural Affairs