Utah still holds the top spot among states for the highest rate of volunteering (51 percent) according to a new federal study released today by the Corporation for National and Community Service (CNCS), the federal agency that oversees AmeriCorps and Senior Corps. Utah has now held the top spot for thirteen years. Salt Lake City ranks third among the top ten cities for volunteering.
"Utahns are making a difference in the lives of those around them," said LaDawn Stoddard, Director of the Utah Commission on Service and Volunteerism. "The impacts of these everyday good deeds and long term, intensive service opportunities add up and make a tremendous difference in our state. Our unique culture of volunteerism is made possible by the individuals across Utah that truly care about taking care of one another." Last year, more than 1.1 million Utah residents volunteered. Their service has an estimated economic value of more than $3.2 billion.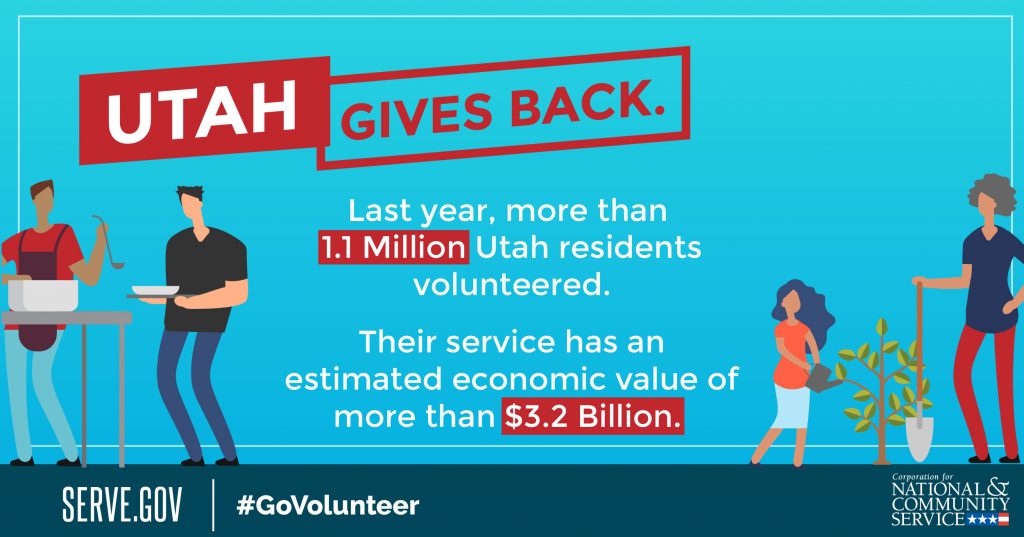 The Volunteering in America research is produced by CNCS as part of its efforts to expand the reach and impact of America's volunteers. Collected for the past 15 years, the research is the most comprehensive data on American volunteering ever assembled, and it includes a volunteer data profile for all states and major metropolitan areas. The complete report can be accessed at americorps.gov/newsroom/news/via, and below are the top-line findings.
Key Findings:
Americans in Utah report the highest rate of volunteering (51 percent), holding the top spot among states, followed by Minnesota (45.1 percent). Oregon (43.2 percent) climbed from the 13th-ranked state to the third, and is joined by Iowa (41.5 percent) and Alaska (40.6 percent), also new to the top five.
Among cities, Minneapolis-St. Paul (46.3 percent) once again ranks first, with Rochester, N.Y. (45.6 percent), Salt Lake City (45 percent), Milwaukee, Wisc. (44.6 percent), and Portland, Ore., (44.3 percent) trailing just behind.
Parents volunteer at rates nearly 48 percent higher than non-parents and working mothers give more time than any other demographic, with a volunteer rate of 46.7 percent.
Generation X has the highest rate (36.4 percent) of volunteering, while Baby Boomers are giving more hours of service (2.2 billion). Millennials are stepping up to do more in Utah and the District of Columbia.
Veterans are among the most neighborly Americans. They do something positive for the neighborhood, spend time with and do favors for their neighbors, and donate to charity at higher rates than their civilian counterparts. Veterans in New Hampshire and Virginia are volunteering more than in other states.
Americans most frequently gave their time to religious groups (32 percent), a quarter volunteered most often with sports or arts groups (25.7 percent); with another nearly 20 percent supporting support education or youth service groups.
One in three volunteers raises funds for nonprofits (36 percent). Additional volunteer activities include: food donation and meal preparation (34.2 percent); transportation and labor support (23 percent); tutoring young people (23 percent); serving as a mentor (26.2 percent); and lending professional and management expertise (20.5 percent).
Individuals interested in the full report or in finding local volunteer opportunities can visit www.americorps.gov.
###
The Corporation for National and Community Service is a federal agency that engages millions of Americans in service through its AmeriCorps and Senior Corps programs and leads the nation's volunteering and service efforts. For more information, visit NationalService.gov